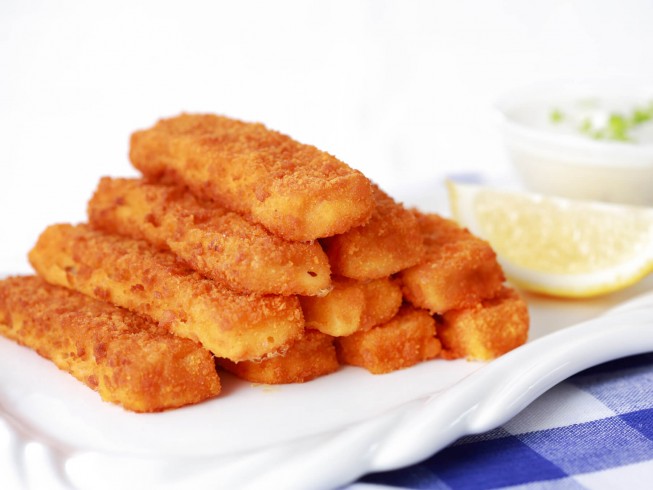 These aren't cafeteria fish sticks, not by a long shot. Catfish strips fried in spicy batter go together perfectly with the homemade kickin' Cajun tartar sauce made with horseradish and relish.

Tartar Sauce
1 cup mayonnaise
1/2 cup sweet pickle relish
2 tablespoons capers, rinsed, drained, and chopped
1 tablespoon fresh lemon juice
1 tablespoon prepared horseradish
2 teaspoons hot sauce
2 teaspoons Cajun seasoning

Fish
1 large egg, lightly beaten
2 tablespoons hot sauce
1 1/4 pound catfish fillets, cut into 1/2-inch strips
1/2 cup flour
1/2 cup fine yellow cornmeal
1 teaspoon salt
1 tablespoon Cajun seasoning
8 cups canola oil, or as needed
lemon wedges

For the tartar sauce, combine the mayonnaise, pickle relish, capers, lemon juice, horseradish, hot sauce, and cajun seasoning in a bowl and mix well. Cover the bowl and chill while you prepare the rest of the recipe.
Combine the egg and hot sauce in a shallow dish and whisk until blended. Stir in the fish to coat completely and let stand at room temperature for 10-20 minutes.
Combine the flour, cornmeal, salt, and cajun seasoning in another shallow dish.
Heat 2 inches of oil in a large pan over medium heat until it reaches 350 degrees F (or use a deep fryer).
Remove the fish from the egg mixture and let any excess drip off. Dredge the fish in the flour mixture and shake off any excess. Add to the hot oil (in batches if needed) and cook, turning as needed, for 1 1/2 to 2 minutes or until golden brown.
Remove the fish with a slotted spoon and place on paper toweling to drain.
Serve the fish hot with the tartar sauce and lemon wedges.
tinyurl
is.gd
v.gd
v.ht
clck.ru
ulvis.net
shrtco.de
tny.im