Root beer isn't just for floats anymore. This pulled pork recipe uses root beer twice: once to tenderize and again in a tangy sauce.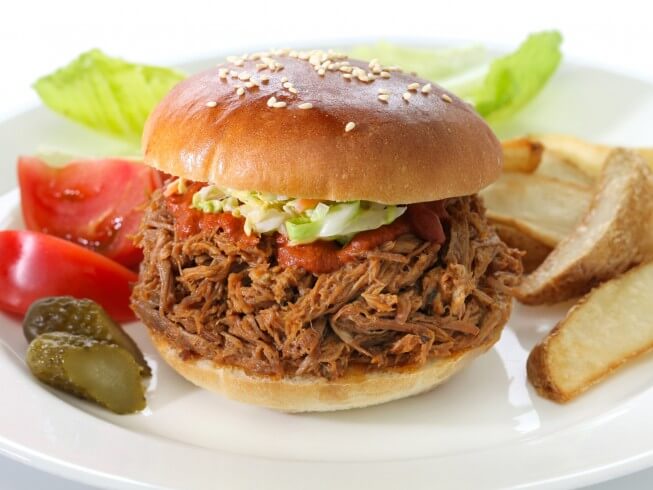 serves/makes:

ready in:
over 5 hrs
6 reviews
1 comment
ingredients

Pulled Pork
3 pounds pork sirloin roast
1/2 teaspoon salt
1/2 teaspoon black pepper
1 tablespoon vegetable oil
2 medium onions, sliced
1 cup root beer, not diet
2 tablespoons minced garlic

Root Beer Barbecue Sauce
3 cups root beer
1 cup bottled chili sauce
1/4 teaspoon root beer concentrate (optional)
3 dashes hot pepper sauce (optional)
10 hamburger buns, split
lettuce leaves (optional)
tomato slices (optional)

directions
Remove any excess fat from the roast and season the roast with salt and pepper.
Heat the oil in a large skillet over medium-high heat. Brown the roast on all sides then place the browned roast in the crock pot.
Add the onions and garlic to the crock pot and pour the root beer over all. Cover the crock pot and cook on low heat for 6 hours or on high for 3 hours, or until the meat is tender.
30 minutes or so before the roast is done cooking, combine the root beer and chili sauce in a heavy saucepan over medium heat. Bring to a boil then reduce the heat to a strong simmer. Let cook, stirring occasionally, for 30 minutes or until the mixture is reduced in half. Remove the saucepan from the heat and stir in the root beer concentrate and hot sauce (if using either).
Remove the roast from the crock pot and place on a cutting board. Using two forks, shred the meat.
Place lettuce and tomato slices on the buns and top with the shredded meat and onions from the crock pot and drizzle with the root beer sauce. Add any other condiments as desired. Serve immediately.
crock pot notes
Crock pots/slow cookers all heat differently. There is no standard among manufacturers. Cooking times are suggested guidelines based on our testing. Please adjust cooking times and temps to work with your brand and model of slow cooker.
nutrition



378 calories

,

15 grams fat

,

41 grams carbohydrates

,

20 grams protein

per serving
.