These springs rolls have the whole package. Beautifully rolled into a rose shape and fried to perfection, these hand-crafted treats will have your guests staring at you and your food.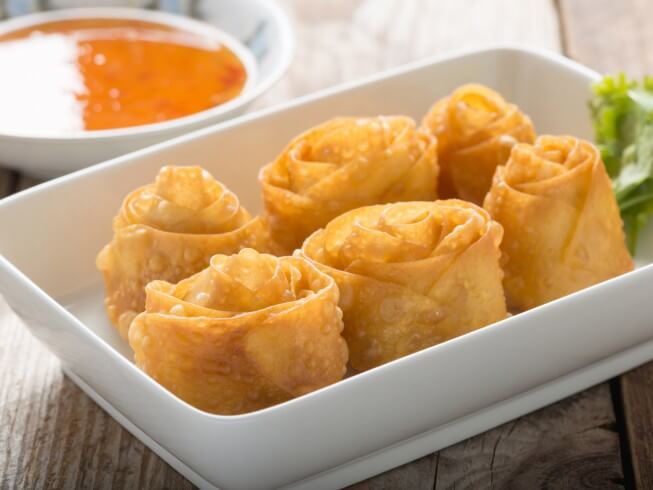 serves/makes:

ready in:
30-60 minutes
ingredients

BACON-SHRIMP FILLING
1/4 pound bacon, finely diced
1 tablespoon minced garlic
1 tablespoon minced ginger root
3/4 pound peeled shrimp, minced
1 can (8 ounce size) sliced water chestnuts, drained, finely chopped
2 tablespoons teriyaki sauce
4 scallions, trimmed, thinly sliced
2 tablespoons minced fresh cilantro
1/4 teaspoon freshly cracked pepper

DIPPING SAUCE
1/2 cup pineapple juice
1/4 cup rice vinegar
1 tablespoon shredded carrot
1 tablespoon thinly sliced scallion
1/4 teaspoon crushed red-pepper flakes

OTHER
1 egg white, lightly beaten
1 teaspoon water
45 wonton wrappers (3-1/4-inch)
vegetable oil for frying

directions
Make filling: In large skillet, over medium-high heat, cook bacon 5 minutes or until browned and fat is rendered. Add garlic and ginger; saute 30 seconds.
Over medium heat, add shrimp; saute just until pink. Add water chestnuts and teriyaki sauce. Saute 1 to 2 minutes. Off heat, add scallions, cilantro and pepper.
In bowl, mix sauce ingredients. In cup, mix egg white and 1 tsp. water. Place heaping 1 tsp. filling across each wrapper; wet edges with egg-white mixture. Fold one edge over length of filling; fold up short sides. Roll up into a cylinder.
In saucepan, heat 2″ oil to 375 degrees F on deep-fat thermometer. In batches, fry rolls 2 minutes or until golden. Drain on paper towels; keep warm in 250 degrees F oven.
added by
YourFriend
nutrition
Nutritional data has not been calculated yet.