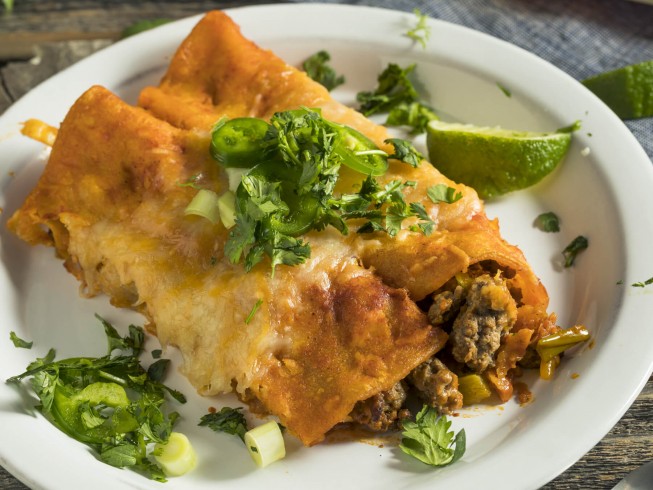 Chili Gravy
2 tablespoons shortening
2 tablespoons flour
2 tablespoons chili powder
2 cups warm water
8 ounces tomato sauce
1 teaspoon salt
1/2 teaspoon black pepper

Filling
3/4 pound ground beef
1/4 teaspoon salt
1/4 teaspoon black pepper

Assembly
4 cups grated longhorn or cheddar cheese
1 cup finely chopped onion, or sliced green onion
2 tablespoons vegetable oil
12 corn tortillas

Preheat the oven to 350 degrees F. Grease a 9×13 baking dish.
Heat the shortening in a skillet over medium heat. When the shortening is melted, whisk in the flour until completely blended. Stir in the chili powder, water, tomato sauce, salt, and pepper. Cook, stirring occasionally, for 15-20 minutes or until thickened. Remove the pan from the heat and set aside.
Brown the ground beef in a skillet over medium heat. Drain off any excess grease then season the beef with salt and pepper. Remove the pan from the heat and set aside.
In another skillet, heat the vegetable oil over medium heat. Dip a tortilla in the oil using tongs, turning once (let it cook for about 15 seconds until softened). Let excess oil drip off the tortilla.
Dip the tortilla into the chili gravy then place the tortilla in the prepared pan. Top with 1-2 tablespoons of the beef, 1-2 tablespoons of the shredded cheese, and 1-2 teaspoons of the chopped onion. Roll the tortilla up and place seam-side down in the pan. Repeat with remaining tortillas.
Pour the remaining gravy over the tops of the rolled tortillas. Sprinkle them with any remaining cheese and onion.
Place the pan in the oven and bake at 350 degrees F for 15-20 minutes or until the gravy is bubbly and the tortillas are heated through. Serve hot.