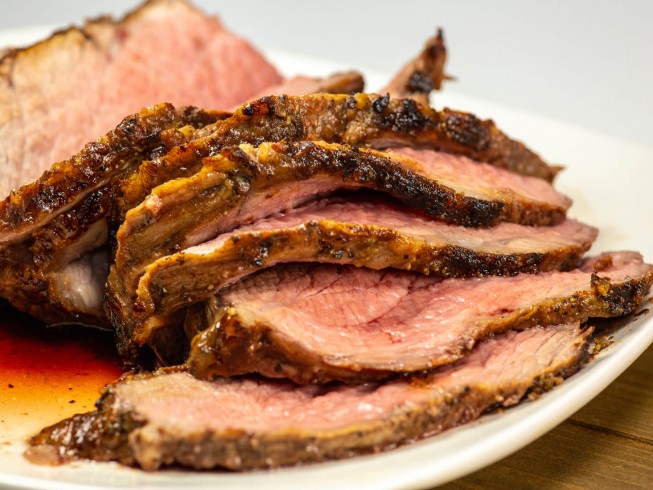 Seared and roasted sirloin tip is a meaty treat. A seasoned salt mixture rubbed onto the beef give it a spicy crust; tangy broth keeps it super juicy in the oven.
3 pounds sirloin tip roast
1 teaspoon salt
1 teaspoon dry mustard
1/4 teaspoon garlic powder
1/4 teaspoon black pepper
1 tablespoon ketchup
1 teaspoon Worcestershire sauce
1/2 cup beef broth or dry red wine

Preheat the oven to 350 degrees F.
Trim any excess fat from the roast. In a bowl, mix together the salt, dry mustard, garlic powder, and black pepper. Sprinkle the roast evenly on all sides with the mixture, patting it so it sticks to the roast.
Heat a thin layer of oil in a skillet over high heat. Add the roast and sear for 2 minutes per side until it is browned on all sides. Remove the roast from the skillet and place in a roasting pan.
In a measuring cup, whisk together the ketchup, Worcestershire sauce, and broth. Evenly pour over the roast.
Place the roasting pan in the oven and cook, uncovered, for 1 hour at 350 degrees F or until the meat is very tender.
Remove the roast from the oven and cover loosely with foil. Let sit for 5 minutes before slicing.