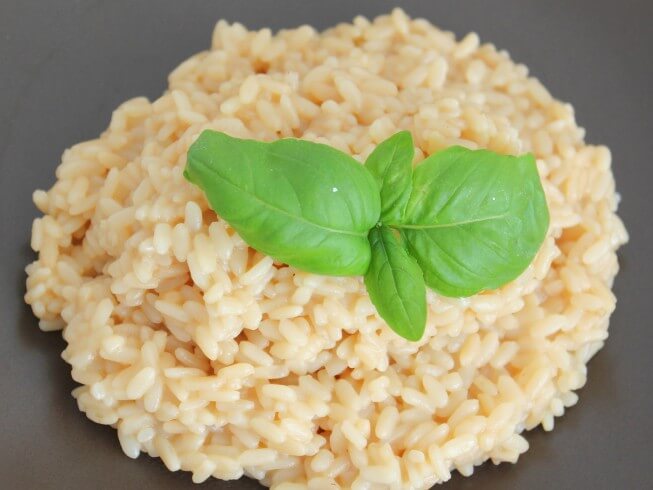 Make restaurant-quality risotto the way chefs do. It doesn't require exotic ingredients, just attention to detail.
2 tablespoons unsalted butter
1 tablespoon olive oil
1/2 cup finely chopped onion
2 cups arborio rice
1/2 cup dry white wine
6 cups chicken stock, heated until hot
1/2 cup freshly grated Parmesan cheese
salt and pepper, to taste

Line a baking sheet with foil.
In a heavy 4-quart pot over medium-high heat, combine 1 tablespoon of the butter with the oil. Add the onion and cook for 2 minutes, stirring with a wooden spoon, or until the onion begins to soften. Take care that it does not brown.
Stir in the rice and stir well for 1 minute to coat the grains all over.
Add the wine and cook, stirring, until the rice absorbs almost all of the liquid. Add 3 cups of the stock, 1/2 cup at a time, stirring well after each addition. Wait until the rice absorbs each addition before adding the next 1/2 cup.
After 10 minutes of cooking, pour the risotto onto the foil-lined sheet. Spread it into an even layer to cover most of the sheet. Leave to cool, uncovered, to room temperature. Cover with plastic wrap and refrigerate until ready to serve.
About 10 minutes before serving, set aside 1/4 cup of the stock. In a heavy 4-quart pot, reheat the remaining 2 3/4 cups stock until hot. Cut or break the chilled risotto into pieces and add it to the broth, stirring vigorously, until all the risotto has been added.
Continue stirring for 5 minutes or until the rice is tender but firm.
Turn off the heat, add the remaining 1/4 cup broth, with the remaining 1 tablespoon butter, cheese, salt, and pepper. Stir well and serve at once.