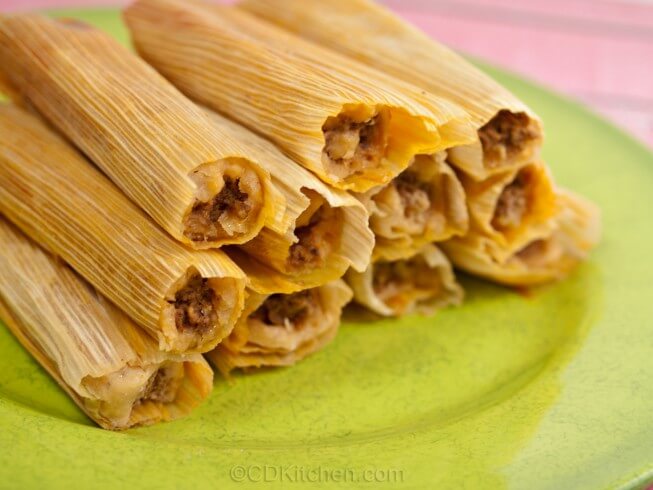 Homemade tamales with a tasty pork filling.

Tamale Filling
1 1/4 pound pork loin
1 large onion, halved
1 clove garlic
4 dried California chili pods
2 cups water
1 1/2 teaspoon salt

Tamale Dough
2/3 cup lard
1 can (10.5 ounce size) beef broth
2 cups masa harina
1 teaspoon baking powder
1/2 teaspoon salt
1 package (8 ounce size) dried corn husks
1 cup sour cream

Place the pork loin in a Dutch oven along with the onion and garlic. Add enough water to just cover the pork. Bring to a boil, then reduce the heat to a simmer and let cook for 2 hours or until the pork is cooked.
Meanwhile, remove the stems and seeds from the chile pods. Place the chiles in a pan with the 2 cups of water. Simmer, uncovered, for 20 minutes. Remove from heat and let cool.
When the chiles are cool, place them along with the cooking water in a blender and process until smooth. Pour the mixture through a fine mesh strainer or cheesecloth. Season with the salt and then set aside.
Soak the corn husks in warm water as directed on package.
While the husks are soaking, remove the pork from the cooking liquid and shred the cooked pork with two forks. Combine the shredded pork with one cup of the chile liquid.
Add the lard to a large bowl and add one tablespoon of the beef broth. Beat until the lard is fluffy.
Combine the masa harina, baking powder, and salt in a bowl. Add to the lard mixture, stirring to blend. Add more broth as needed to make a dough.
Spread the dough over the corn husks, about 1/4 inch thick. Place a tablespoon of the pork in the center of each. Roll the husks over the pork and place in a steamer. Steam for one hour.
To serve, remove the tamales from the husks. Combine the sour cream with as much of the remaining chile liquid as desired and drizzle the mixture over the tamales.