Twisty cheese straws are a nice touch for a party. They're the ultimate light munch. No matter how many of them you make, you can be sure that the only leftovers will be crumbs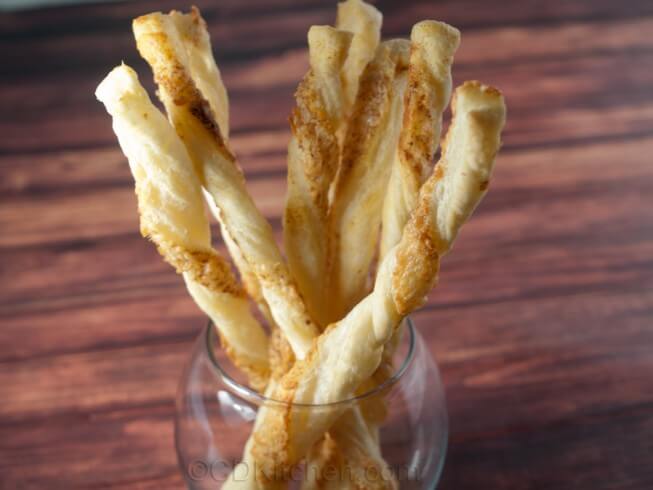 serves/makes:

ready in:
under 30 minutes
1 review
ingredients
1 package (17.25 ounce size) prepared frozen puff pastry, thawed in refrigerator
1 lightly beaten egg white
paprika
cayenne pepper (optional)
1 cup finely shredded cheese such as aged cheddar, Asiago, or Parmesan

directions
Preheat oven to 375 degrees F.
Open one sheet of puff pastry on a cutting board. Brush the surface lightly with some of the beaten egg white. Sprinkle lightly with paprika and a touch of cayenne pepper, if desired. Sprinkle surface with 1/2 cup of cheese to evenly cover entire surface. Roll a floured rolling pin over cheese to gently press the cheese into the puff pastry.
Cut the puff pastry into long 1/2-inch-wide strips; gently twist each strip several times. Lay strips 1 inch apart on a baking sheet lined with parchment paper. Repeat with remaining sheet of puff pastry, egg white, paprika, pepper, and cheese. Bake in the 375 degrees F. oven for 12 to 14 minutes or until the straws are golden in color. Cool on wire rack. Best served the same day but can be stored overnight in an airtight container.
added by
yikes_edoc
nutrition
Nutritional data has not been calculated yet.