Meaty short ribs are baked with a tangy-sweet sauce until tender and falling off the bone.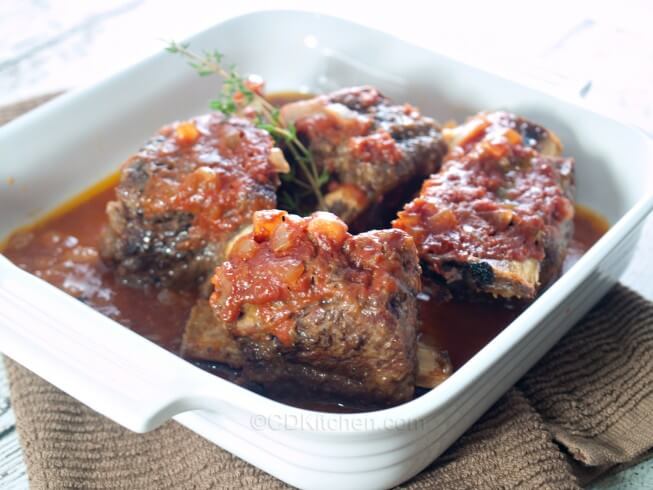 serves/makes:

ready in:
2-5 hrs
3 reviews
ingredients
3 1/2 pounds beef short ribs, cut into serving pieces
1/4 cup brown sugar
2 teaspoons garlic salt
1/4 teaspoon dried thyme
1 medium onion, chopped
1 cup ketchup
1/2 cup water
2 tablespoons Worcestershire sauce
2 teaspoons prepared mustard

directions
Preheat the oven to 450 degrees F.
Place the ribs in a baking dish. Place the dish in the oven and bake at 450 degrees F for 20 minutes. Drain off any excess grease in the baking dish and reduce the oven temperature to 350 degrees F.
In a bowl, stir together the brown sugar, garlic salt, thyme, onion, ketchup, water, Worcestershire sauce, and mustard. Mix well then pour the mixture evenly over the ribs.
Cover the baking dish with foil. Return the ribs to the oven and bake at 350 degrees F for 1 1/2 hours or until the short ribs are tender. Baste the ribs with the sauce every 30 minutes.
Spoon the sauce in the baking dish over the ribs at serving time.
nutrition



628 calories

,

32 grams fat

,

21 grams carbohydrates

,

62 grams protein

per serving
.