This cherry pie creates its own crust by starting with a pourable batter and topping it with cherry pie filling and a cinnamon streusel sprinkled over the top.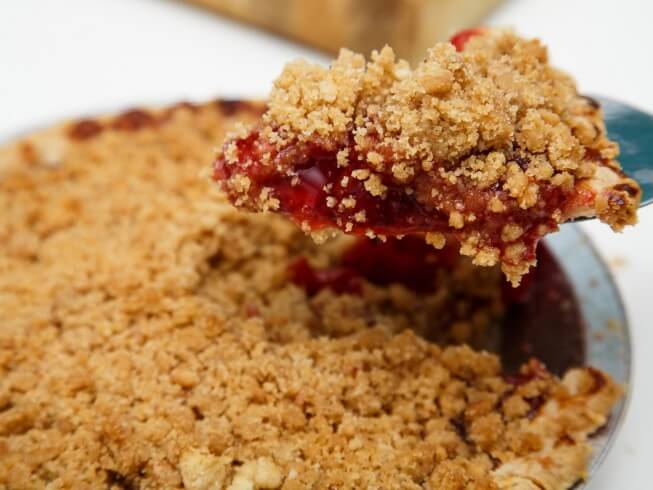 serves/makes:

ready in:
30-60 minutes
ingredients
1 cup 2% or low-fat milk
2 tablespoons margarine, softened
1/4 teaspoon almond extract
2 eggs
1/2 cup biscuit baking mix
1/4 cup sugar
1 can (21 ounce size) cherry pie filling

STREUSEL
2 tablespoons cold margarine
1/2 cup biscuit baking mix
1/2 cup packed brown sugar
1/2 teaspoon ground cinnamon

directions
Preheat the oven to 400 degrees F. Grease a 10-inch pie plate.
Combine the milk, margarine, almond extract, eggs, baking mix, and sugar in a blender. Process on high speed for 1 minute or until smooth.
Transfer the batter to the prepared pie plate. Spread the cherry pie filling over the batter.
In a bowl, combine the cold margarine, baking mix, brown sugar, and cinnamon with a pastry blender or a fork. Mix until crumbly. Sprinkle the streusel topping evenly over the cherry pie filling.
Place the pie plate in the oven and bake at 400 degrees F for 30-35 minutes or until the topping is golden brown.
Serve warm or chilled.
nutrition
Nutritional data has not been calculated yet.