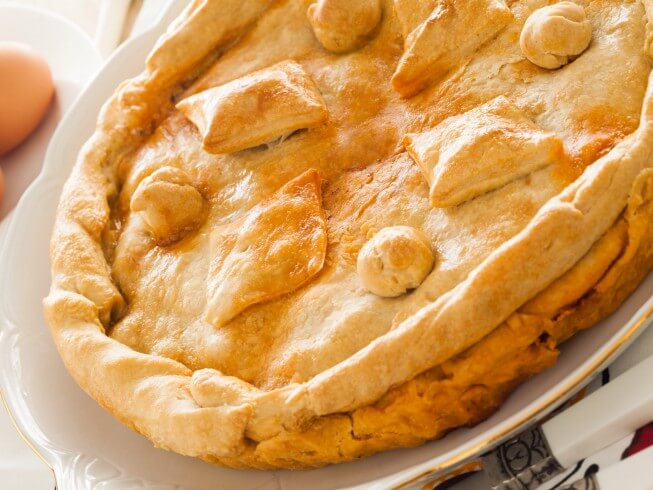 The savory filling with fresh parsley and cream cheese absolutely makes this pie worth baking, but the scratch-made onion pastry dough takes it over the top into gourmet territory.
1 tablespoon butter
2 cups onion, minced
1/2 pound mushrooms, coarsely chopped
2 pounds lean ground beef or pork (or a mixture of the two)
1/4 cup dry red wine
2 slices white bread, crumbled
2 teaspoons salt
1/2 teaspoon black pepper
1/2 teaspoon dried thyme, crumbled
1 package (8 ounce size) cream cheese, cubed
3/4 cup fresh parsley, minced
1 egg yolk, beaten with
1 tablespoon water

Onion Pastry
2 cups all-purpose flour
2 tablespoons dried onion flakes
1 teaspoon salt
1 teaspoon sugar
1/4 teaspoon black pepper
3/4 cup well chilled butter, cut into 12 pieces
1 egg
3 tablespoons ice water

For Filling: Melt butter in heavy large skillet over medium-low heat. Add onion and cook until soft, stirring frequently, about 10 minutes.
Add mushrooms and meat. Increase heat to high and stir until meat is no longer pink. Add wine and stir until all liquid evaporates, about 8 minutes.
Stir in bread, salt, pepper and thyme. Blend in cream cheese and parsley. Cool to room temperature.
Position rack in center of oven and preheat to 400 degrees F. Spoon meat into 10 inch pie plate. Brush upper edge and outer rim with glaze (egg yolk and water).
Roll larger piece of Onion Pastry (see below) out on lightly floured surface to 12 inch circle. Cut small hole in center.
Place dough over filling, centering steam hole. Press overhanging dough firmly to edge of plate. Press tines of fork along rim.
Roll remaining dough out 1/4 inch thick. Cut out decorative shapes, such as leaves. Brush pie with glaze (yolk + water). Place decorations on top, pressing gently. Brush again with glaze.
Bake until golden brown, about 40 minutes. Cool for 10 minutes before serving.
For Onion Pastry: Blend dry ingredients in processor. Cut in butter using on/off turns until mixture resembles coarse meal.
With machine running, add egg and 2 Tbsp. ice water through feed tube. Blend until dough begins to gather together. Add remaining water a little at a time if dough is dry.
Gather dough together. Cut off 2-inch round. Form both pieces into rounds; flatten into discs. Wrap tightly and refrigerate 30 minutes.