If you've ever dreamt of having hot chocolate as a full-on dessert, don't let your dreams just be dreams. This baked hot chocolate topped with whipped cream makes for a decadent treat. Make your own whipped cream with vanilla to make it truly dreamy.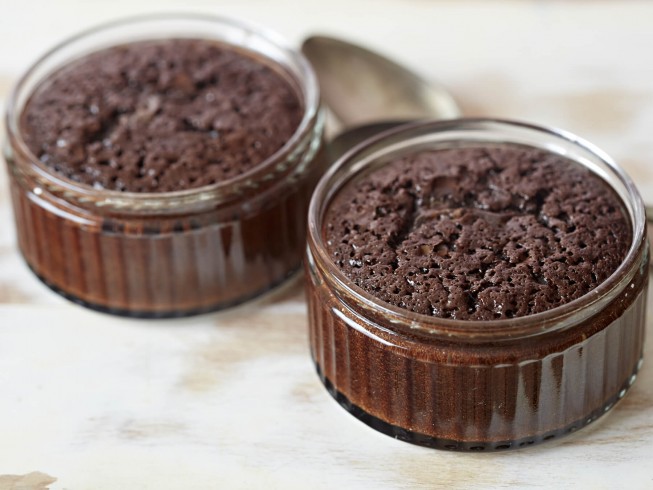 serves/makes:

ready in:
30-60 minutes
1 review
ingredients
10 ounces semisweet chocolate, chopped
1/2 cup butter (plus extra for greasing cups)
5 eggs, separated, PLUS"PLUS" means this ingredient in addition to the one on the next line, often with divided uses
1 egg white
2/3 cup sugar plus extra for preparing cups, divided
3 ounces bittersweet chocolate cut into 6 equal pieces
1 cup whipped cream for garnish

directions
Melt semi-sweet chocolate and butter in double boiler. Set aside and keep warm.
Beat egg yolks and 1/3 cup sugar with electric mixer until thick and ribbony. Stir yolk mixture into warm chocolate mixture.
Beat egg whites, adding remaining 1/3 cup sugar a little at a time, until stiff and creamy. Fold egg white mixture into chocolate mixture.
Get heatproof coffee cups or mugs (or use ramekins). Butter and sugar insides of each. Fill each 3/4 full with chocolate mixture. Place 1 piece of bittersweet chocolate into the center of each filled cup.
Bake at 350 degrees F until souffles are puffed and just beginning to crack (should be about 15-20 minutes). Remove from oven and cool slightly.
Serve with whipped cream on top.
added by
Leberknodel
nutrition



654 calories

,

49 grams fat

,

57 grams carbohydrates

,

10 grams protein

per serving
.