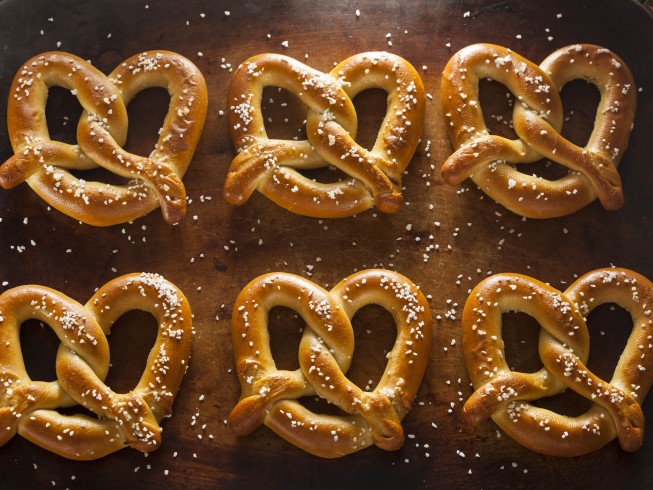 Just like the pretzels you get at the mall, but even better since you can make them at home!

Pretzel Dough
1 1/2 cup warm water
1 1/8 teaspoon active dry yeast
2 tablespoons brown sugar
1 1/8 teaspoon salt
1 cup bread flour
3 cups regular flour

Water Bath
2 cups warm water
2 tablespoons baking soda

Toppings
to taste coarse salt
4 tablespoons melted sweet cream butter

Add the warm water to a mixing bowl. Sprinkle the yeast evenly over the surface. Let the yeast "bloom" then stir in the sugar and salt.
Add the flours slowly while stirring until it forms a soft dough. Turn the dough out onto a floured surface and knead until smooth and elastic. Place back in the bowl and cover with a damp towel. Let rise for 30 minutes in a warm, draft free location.
While the dough is rising, prepare the water bath by mixing the warm water and baking soda. Stir well.
Preheat the oven to 450 degrees F. Grease a baking sheet.
When the dough has risen, pinch off pieces of the dough and roll out into a long, thin (1/2-inch thick or less) ripe. Shape into a pretzel shape, or other desired shape. Dip the pretzel in the warm baking soda solution and place on the prepared baking sheet. Repeat with remaining dough.
Place the baking sheet in the oven and bake at 450 degrees F for 10 minutes or until golden brown.
Remove the pretzels from the oven and brush with melted butter. Sprinkle the hot pretzels with the coarse salt.
For cinnamon-sugar pretzels, dip the pretzels in melted butter then coat in blend of ground cinnamon and sugar.